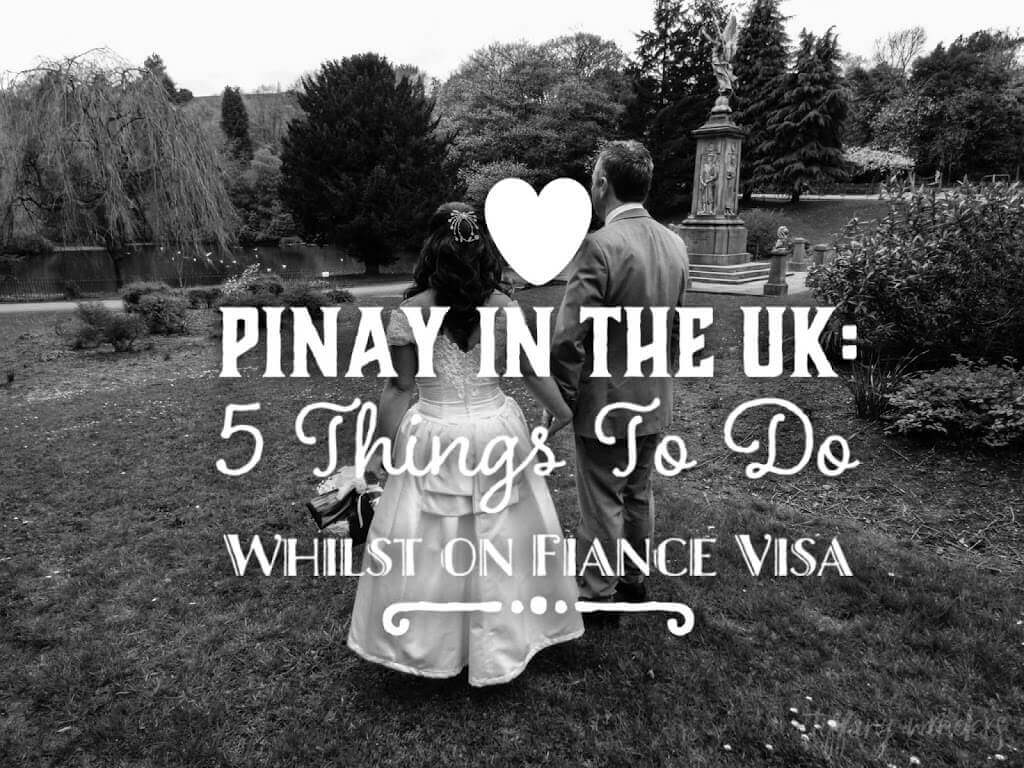 What's next after getting a fiancé visa? This is a common question from applicants after the long process of gathering documents, application and waiting for that golden visa. After the first challenge, another dilemma comes up. I understand the uncertainty as it's not easy to leave your home country … for good.
I thought to create this post with the aim to help others who are on the same journey. But please keep on doing your own research as rules/process may change and this post becomes outdated.
I entered England way back in 2017 on a fiancé visa. This type of visa permitted me to get married in the country. Once married, I was allowed to extend my visa by applying for FLR(M) (also known as spouse visa) so I can stay and work in the country for another 2.5 years (via a 5-year route). Please be reminded that fiancé visa doesn't allow any form of work or claim public funds.

Below are the things I did whilst on fiancé visa:
1. Finalised my wedding details. Not much were done whilst waiting for my application. We made sure to get the visa first before finalising the details. The first few months made me busy in helping plan the venue, get the invitation cards, find a wedding gown, order the cake, and so on.
This should keep you busy. Also, please keep in mind to enjoy every moment of it. Planning a wedding can be stressful but enjoyable at the same time. This is your wedding, so make sure it is how you want it to be.

2. Met my in-laws. A few days after I arrived, I met my mother-in-law, then at some point my other in-laws and partner's friends. It's a good thing to meet your future husband's circle so you can easily recognise them on your wedding day. This is also the perfect time to get recommendations because a lot of Brits love weddings!

3. Adapted to my new life. I'll try to point out a few things I have to adapt in my new environment.
3.1 Weather. This is something I have to quickly adapt. I arrived in winter time and I came from a tropical country, so the weather was a shock! The heater was in full blast for a few months, and that didn't go well with our bills. After that, I tried my best to get used to the cold weather or else we'll have to keep on paying a lot of money.
3.2 Culture. The culture was also different. However, meeting my husband's circle helped to get used to it. One of the many things I'm going to highlight is the politeness of many Brits. A good example is when you're about to enter/exit an establishment, the person in front of you will hold the door until you've managed to pass. Another scenario is strangers will ask you 'how's your day?' or 'are you alright?'.
Don't be afraid to try new things and explore your new town. It can be daunting at first, but you'll get used to it.

4. Get the essentials. This is a broad topic so I'll try to point out the major ones I can think of.
4.1 Clothes. Buy the clothes you need. You might not be able to bring all your clothes and things, or they may not be appropriate to the current season. This is the time to slowly get the necessities such as jackets, coats, boots, tops, trousers, leggings, etc.
If you're on a tight budget, Primark is the best place to go. But if you have a bit of money to spare, you can try New Look, River Island, H&M or M&S. If you arrived on sale season, the best places to go are Debenhams, Zara, House of Fraser, Next. There are more brands to choose from depending on your preferences.
4.2 Bank account. Not all banks will let you open an individual account whilst on fiancé visa. In my case, I tried to open an individual bank account but they questioned how can I generate a regular cash flow since I can't work in the country. So we decided to go for a joint account as my husband has an existing account with them. It wasn't a bad set-up.
When I was eligible to work, I opened my individual bank account. Again, this depends on which bank you're going for as other banks may allow you to open an account on certain conditions. You can check other banks if you really wanted a separate account.
4.3 Registration and declaration. Since your visa is a settlement type, you can register to your local GP and dentist. In case there is something that needs to be checked or if you need a flu jab, make sure you register. Furthermore, any letters you get from them can be used as correspondences on your next visa application.
Make sure your partner declares you as an additional resident to the local council. Unfortunately, this can increase the council tax fee depending on the situation, but it's necessary to declare you. Discuss this with your partner.

5. Gathered documents for the next visa. Fiancé visa only allows you to stay 6 months in the UK. The condition is to get married to your partner/sponsor before you can apply for FLR(M) to extend your stay.
The documents for FLR(M) are just updates of the documents you submitted on fiancé visa with the addition of correspondences. You can refer to this link what documents I submitted on my first FLR(M) under category A. Correspondences are letters with your name and/or partner's plus address. These can be letters from your dentist, GP, bank, bills. You can slowly start gathering different letters and update your documents for your next visa application.
Always remember to not get too stressed when you arrive in the UK. You also have to enjoy your wedding, new life and country. You came here to build a family with your British partner, and not to live a miserable life.
Hope this helps! Any questions, please post it below.